Introduction
Did you know that 70 percent of businesses that follow a strategic business plan manage to survive for five years?
But here's the deal — the way you write your SaaS business plan differs a little from the way you might write plans for a more traditional "lifestyle" business. There are unique considerations that can help your business succeed or fail.
It's necessary to validate your business idea and build a compelling case for investors. If you're starting a SaaS business, there is an even greater need to create a solid business plan because the resources required to fund growth are often higher relative to other types of online businesses.
An excellent SaaS business plan lays out essential aspects of your business, from mission and values to marketing strategy and financial projections. It also helps you consider any potential risks and create contingency plans.
If you are considering developing your own SaaS business, this guide discusses what a SaaS business plan should include and how to create an outstanding one.
We'll cover areas like your business model examination, marketing, financials, and how to make sure your plan doesn't include any holes.
What is a SaaS Business Plan?
A SaaS business plan is the roadmap for your software-as-a-service (SaaS) business. With this plan, you can specify steps you need to take to make your business succeed. It basically helps you stay organized and keep track of your progress.
When creating a SaaS business plan, you must consider many factors, including customer segmentation, customer acquisition strategy, pricing structure, marketing, and operational costs. It's also essential to set short-term and long-term goals to stay on track.
Moreover, the plan is vital for communicating with potential investors and customers, giving them a clearer insight into the product and its value.
Why Do You Need a SaaS Business Plan?
1. Increased Clarity
A SaaS business plan creates clarity around your goals and objectives by articulating them in an understandable format. This plan gives you the foundation for making decisions moving forward, helping you identify potential challenges or opportunities down the road. Whether it's for yourself, investors or shareholders, having a well-thought-out business plan can be invaluable when it comes to mapping out your trajectory for success.
2. Assign Responsibility
A SaaS business plan focuses on the project and keeps it organized, on track, and ultimately profitable. If your organization lacks a plan, you may find that progress is slow. Projects may get sidetracked or confused, and you may have trouble communicating goals to the team.
With a plan in place, your management team can see who's responsible for what tasks, when those tasks need to be completed, and how their efforts are contributing to the overall project. It makes it easier to measure performance and set up rewards.
And at the same time, if someone falls behind or is underperforming, it's also easier to identify which area needs improvement—all thanks to having a well-defined SaaS business plan.
3. Manage Change
When running a SaaS business, you must always be ready for a pivot. Having a detailed plan helps you prepare for any curve balls that may come your way. A plan is also helpful when expanding or trimming staff or services—it ensures that everyone is on the same page and understands your ultimate goals.
4. Secure Funding
Having a business plan is critical if you're trying to secure funding for your SaaS project. Investors want to know that you have accounted for all aspects of your project.
Most are particularly interested in seeing your business model and product, competitive edge, customer acquisition strategy and financial projections. These insights help them to determine the potential profitability of your venture.
Your business plan typically shows investors how much money they will need to invest in getting the project off the ground.
Pro tip!

Discover the techniques and best practices of price anchoring, a pricing strategy you can use in your business plan.
Crafting a Winning SaaS Business Plan Outline
We've mentioned earlier that a SaaS business plan is the roadmap you need to create a successful software as a service company. With the right plan, you can identify your target market, outline your strategy, and secure the resources you need to get started.
Here are the 'must-haves' in your outline to get started on the right foot.
1. Executive Summary
The executive summary is a "30-second pitch" that encapsulates the key elements and essential information about your business in a few short paragraphs. It's the first chapter of your SaaS business plan, setting the tone for the rest of your document.
The executive summary should be clear and concise while providing enough detail to paint a vivid picture of your business concept and goals.
Potential investors or partners should be able to quickly understand your business goals and concept, as well as your competitive advantages and mission. Hence it's best to keep your text concise.
You should;
Include all the essential points and briefly explain how you plan to reach your objectives.
Communicate why your company will succeed in this space relative to competitors in the market at large.
Finally, don't forget about visual aids—add charts and other visuals that can help illustrate your points throughout your executive summary to strengthen its impact and clearly present information.
You can see that this very brief executive summary includes an overview of the product, market, and mission.
Describing your product and market are particularly essential because they provide a framework for writing about your business model in a way that is focused on your target audience and clear to potential investors.
2. Identifying the Problem
The problem statement clarifies why you create your product or service and why customers need it. It should be succinct and designed to establish your company's unique purpose and value proposition in the marketplace.
To write a comprehensive problem statement, you need to research and analyze industry trends to identify the unique problems that your product will solve.
Tools such as the Google Trends search engine or the Pew Research Center are excellent resources for conducting industry research. You can use Google Trends to view the relative popularity of search terms over time, while the Pew Research Center provides access to industry-specific survey data.
Tools like these can help you identify gaps in the current marketplace to help you create a compelling problem statement.
After your research, use straightforward language to articulate the primary issue your product or service addresses. Remember to keep it Simple. Refrain from overloading readers with too much information; keep it straightforward and easy to understand.
3. Asserting Your Solution
Once you've detailed the problem, you need to create a case study for why your solution is the ideal one. Solutions in a SaaS business plan typically refer to the product or service your company provides.
In this section of the business plan, you must clearly articulate how your solution will be better, faster, or cheaper than the competition.
As you explain the advantages of your solution, provide concrete data, such as customer testimonials, to back up your claims. It is also important to emphasize the value proposition and the differentiating characteristics that set your solution apart from the competition.
Ultimately, convincing potential customers that your product is better than any alternative will be a key part of gaining their trust. The more information you provide in this section, the more likely potential customers are to understand the value of your product and choose your solution over the competition.
4. Market Opportunity
Market opportunity refers to the potential size and growth of the available market for a business's services or products. It is an important consideration in the business plan as an essential part of determining the potential success of the business concept. To assess and identify market opportunities, you must first understand your target market.
Check out this graph to find out the approximate global SaaS market growth: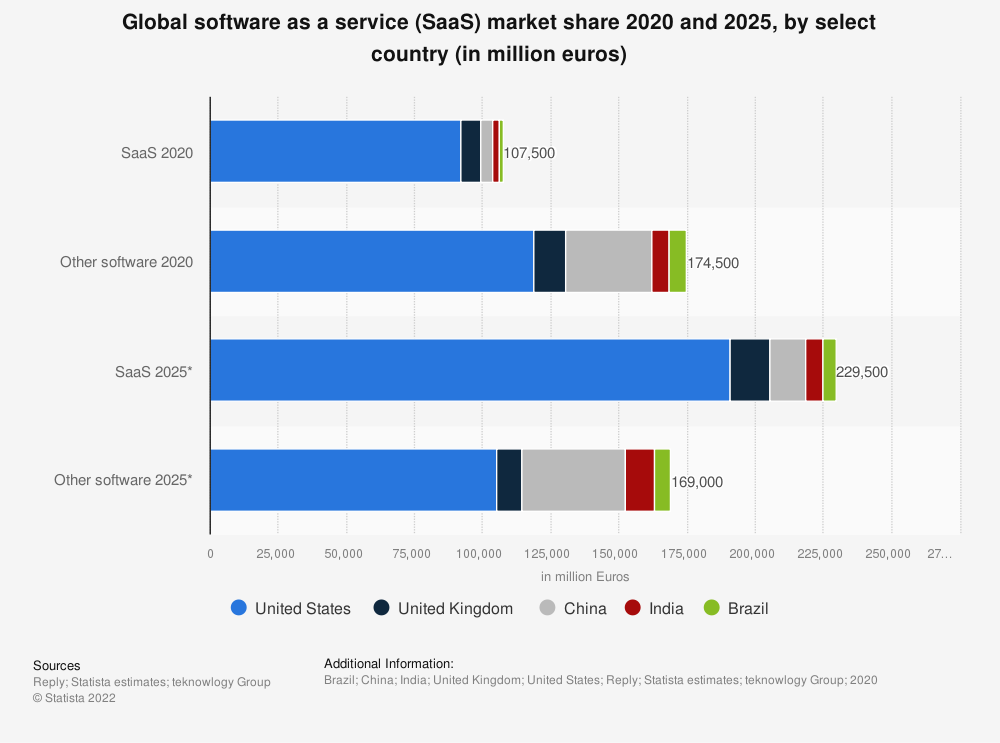 Understanding your target market involves researching the product or service, the target customer demographic, and the market situation for similar products or services. Websites like US Census Bureau, Answer The Public, and Statista can help you uncover actionable insights to identify opportunities, such as untapped markets or customer subsegments that may be more receptive to your SaaS product.
It is also essential to consider any potential trends or changes in the market, such as new laws and regulations, technology, or changes in customer behavior, that could impact the market. Trend research can help inform pricing and marketing strategy for better long-term success.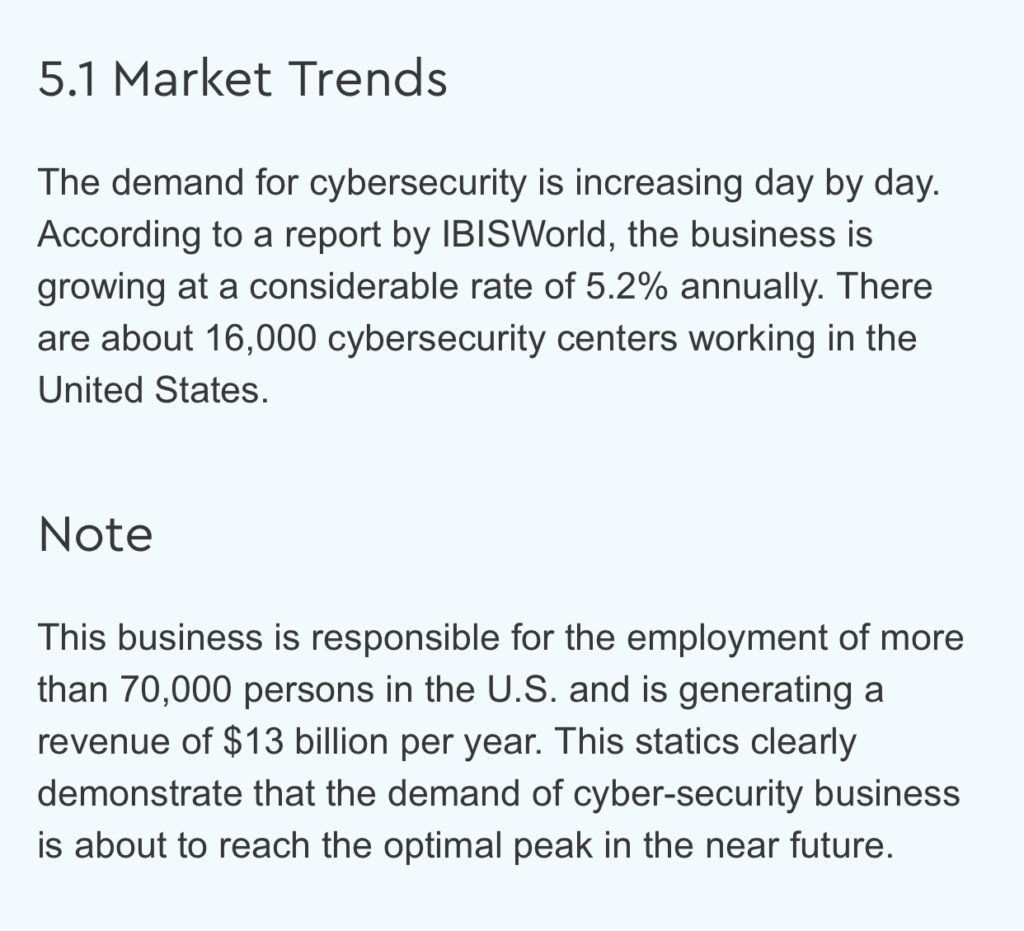 You can see that this outlines the potential trend and growth of the cybersecurity market following an analysis by IBISWorld.
5. Competitive Analysis
The next section of your SaaS business plan should be a competitive analysis. In this part, you look at—and compare yourself to—your competition. This survey helps you understand the current market, identify areas of advantage and disadvantage, and develop strategies to help you stand out from the competition.
Writing a good competitor analysis begins with identifying who your competitors are. Tools like Similarweb can help you find direct and indirect competitors who offer similar services or products differently. For each competitor, you listed, describe the services they provide and their strengths and weaknesses.
Next, spell out the differences between your offer and your competitor's. Analyze their pricing structures too. Are customers willing to pay more for specific product features? How often do copycats come along? Is there a demand for cheaper alternatives? Understanding these dynamics can help you create better pricing strategies for your SaaS business plan. Popular SaaS pricing strategies include penetration pricing, trial pricing, and psychological pricing.
You can also conduct an SEO competitor analysis to get a better understanding of your competitors' strategies. This, in turn, will help you craft a more strategic marketing plan to outperform your competitors'.
6. Business Model Examination
Business model examination in a SaaS business plan involves analyzing and defining how the company plans to generate revenue and create value for its customers. This section includes an in-depth study of key elements of the company's revenue model, such as pricing strategy, target market, cost structure, sales and marketing channels, and customer acquisition strategy.
The business model examination allows you to ensure that your assumptions are solid and strengthen weak areas. It also validates ideas and visualizes how they stand up compared to competitors in the market. Here, you'll typically answer important questions such as:
What value does the SaaS offering provide to its customers?
How will the company monetize its SaaS offering?
Who are the target customers, and what are their needs?
What are the key costs associated with delivering the SaaS offering, and how will these costs be managed?
How will the company acquire and retain customers, and what is the customer acquisition cost?
7. Marketing Plan and Strategy
This section details a comprehensive strategy for attracting and retaining customers by communicating the value of the company's offering. It outlines the steps the company will take to build awareness and demand for its product and how it will retain its existing customer base.
A typical marketing plan in a SaaS business plan includes the following components:
Target market analysis: Identify the target customer segments, their needs, and how the SaaS offering addresses those needs.
Competitive analysis: Identify the competition and assess the company's competitive advantage.
Value proposition: Define the unique value the SaaS offering provides customers and how it differentiates from the competition.
Positioning strategy: Determine how the SaaS offering will be positioned in the market and how the company will communicate its value proposition to its target customers.
Marketing mix: Define the marketing mix, including product, price, place, and promotion, and how they will be used to achieve the marketing objectives.
Marketing budget: Establish the marketing budget, including the cost of marketing campaigns and tactics and how the budget will be allocated to different marketing channels.
Marketing KPIs: Define key performance indicators (KPIs) to measure the marketing plan's effectiveness and track progress.
To learn more about measuring your marketing KPIs, read our comprehensive guide on essential SaaS metrics to track and improve growth.
8. Timeline and Map
A timeline is a visual representation of the key milestones and events the company intends to achieve in a specified period.
The timeline should outline the significant events such as;
product development
launch
marketing campaigns
key hires, as well as the expected completion dates for each event.
The timeline provides a roadmap for the company, ensuring that the business stays on track and meets its goals.
To create a comprehensive timeline in your business plan, determine what you want to achieve with your SaaS business. Next, identify the key events that need to happen for your business to achieve its goals. These events can include product development, launch, marketing campaigns, and key hires.
After identifying key events, assign a realistic time frame for each milestone, considering any dependencies or constraints. This step will help you to determine the expected completion dates for each event.
Finally, choose a format for your timeline that is easy to understand and visually appealing. A Gantt chart is a popular choice for creating a timeline, as it provides a clear and visual representation of the timing of each event.
9. Your Team
Your management team, composed of founders, executives, and everyone in between, are responsible for turning your brilliant idea into a reality. That's why exploring how your team and plan mesh together is essential to create something truly unique.
In this section, you'll want to talk about the experience and qualifications that your team brings to the table — including relevant work history and industry knowledge. You'll also want to talk about how roles are divided among team members and how those roles might evolve.
If the company has a board of directors and advisors, this section should describe their background and experience and how they will contribute to the business's success. The team section should also outline the company's plans for future hiring and how the new hires will fit into the company's overall strategy.
10. Financial Plan
A financial plan is one of the essential parts of your SaaS business plan. It lays out your current and future financial needs so that investors know where you are now and understand where you intend to be in the near and distant future. Here are some key elements to include when writing the financial plan section.
Projected income statement: Provide a detailed projection of the company's revenue and expenses over a period, usually 3-5 years.
Projected cash flow statement: Show the company's expected cash inflows and outflows over the same period as the projected income statement.
Projected balance sheet: This section should show the company's projected assets, liabilities, and equity at the end of each year.
Break-even analysis: Show the point at which the company's revenue will equal its expenses and how long it will take to reach that point.
Assumptions and risks: Outline the assumptions and risks underlying the financial projections, such as changes in the economy, competition, and customer behavior.
Capitalization table: This section should show how the company will be funded, including equity investments, debt financing, and other funding sources.
In today's world, the process of creating a business plan has become much easier. You can find freelancers online who can help handle time intensive parts of the process like research and formatting, making it possible for you to focus on what matters most — your business strategy.
You can also find templates online that allow you to plug in your own information and print out pages with everything you need.
For example, SCORE provides fillable worksheets to help you cover these key pages in your business plan. The US Small Business Administration (SBA) also offers sample templates for both modern lean startup and traditional business plans. Additionally, you can find free templates on PandaDoc.
Pro tip!

Trial pricing method is another pricing approach you can use when writing a winning SaaS business plan.
Final Thoughts
Now you see, you don't have to be an excellent wordsmith or planner to craft a winning SaaS business plan. The steps in this guide will help you to organize your thoughts and create a comprehensive plan for your business.