Innago Overview
Landlords have a lot of different responsibilities, from collecting rental payments to handling maintenance requests, listing properties, managing leases, and more. It can be overwhelming to take care of all those different tasks on an individual basis.
That's why many landlords and property managers turn to property management software solutions, like Innago. But is Innago right for you?
This Innago.com review will tell you all you need to know about this interesting piece of software.
---
Innago – Best for landlords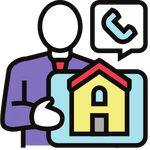 Innago is the ultimate quality-of-life solution for landlords. It lets you save hours of time and resources on everyday tasks like collecting rent, signing leases, and dealing with maintenance requests, all from one single app.
---
Innago Pros and Cons
Further down in this Innago.com review, we'll be taking a look at some of the key features of this software and exploring exactly how it works. But, before we get there, let's focus on some of the main pros and cons associated with Innago to help you see if it's right for you.
Innago Pros
Completely free
One of the most amazing things about Innago is that it's almost entirely free! Landlords can benefit from all of this software's key features without having to spend a cent, and the only fees involved are for tenants.
Maximize efficiency
You can save hours of time on everyday landlord tasks with Innago. It lets you get things done much more quickly than usual, with rental payments and maintenance issues processed in just a couple of clicks.
Cost-effective
Time isn't the only thing you can save with Innago. It's also a great piece of software for saving money, as it can help you find quality tenants more quickly, collect your rent on-time, and so much more.
Super simple
Another big benefit of Innago is how easy it is to use. The interface is sleek and simple, and it works on different devices, so you can even open Innago on your phone to collect rent and contact tenants whenever and wherever you like.
Fully-featured
We also love the fact that Innago has so many great features crammed in to such a sleek and simple app. From property listings and syndication to online lease signing, there's so much that this app can do.
Innago Cons
Some features still missing
Even though Innago has a lot of features, some users have complained that a few key functions are still missing from this software, like advanced accounting tools, for example. On the plus side, the Innago team continues to release updates and improvements over time.
Some bugs
Another issue that we've noticed in certain user reviews of Innago is that this software can have some bugs from time to time. Occasional bugs aren't unusual for software companies, and Innago usually addresses these quickly, but you might still encounter one or two.
Slow support responses
In general, Innago's customer support team is friendly, responsive, and professional. However, some users have reported that certain actions might take longer than others. Innago is quick to update you about the progress and status of the issue in these cases.
| Innago Advantages | Innago Disadvantages |
| --- | --- |
| No fees for landlords | Lacking in certain areas |
| Save hours of time | Technical issues |
| Save lots of money | Support could be faster |
| Very beginner-friendly | |
| Lots of features in one simple app | |
---
Try Innago now!
If you're looking for a free and simple app that can streamline your property management, no matter whether you have one unit or hundreds, Innago is the answer. Visit the Innago site and sign up today to see what this software can do for you.
---
What Is Innago?
So, what exactly is Innago? In simple terms, Innago is a property management app designed for landlords and property management companies. It aims to make many aspects of property management easier, like finding renters, collecting rental payments, signing leases, dealing with maintenance issues at a property, and so on.
The Innago company was founded with the mission of making tenant management simpler and more intuitive for landlords, and simplicity was a key part of the software's design; the Innago team wanted to make something that any landlord could start using with ease, without the need for complicated menus or long training periods.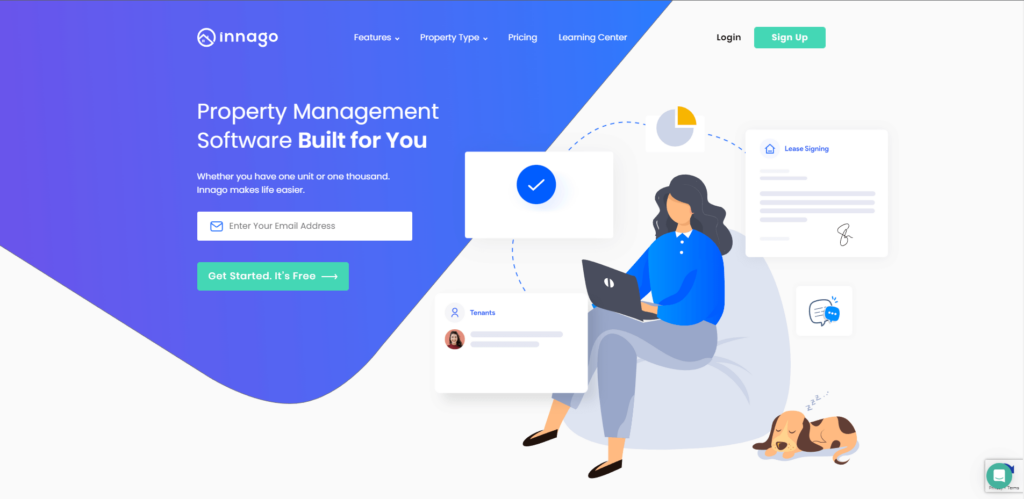 The team succeeded in their aim. Innago is now regarded as one of the easiest pieces of property management software to work with. Even if you've never used an app like this before, you can log on and start collecting payments and interacting with tenants in no time at all. Plus, Innago is flexible and scalable enough to suit different types of landlords.
Not only that, but Innago also stands out from the crowd for its affordability. While other property management tools and landlord aids often come with high monthly or annual fees, Innago is actually totally free for landlords to use. The only people who have to pay are your tenants, with Innago charging a small fee for rental payments.
| | |
| --- | --- |
| Overall rating | 4.5/5 |
| Simplicity | Innago is one of the easiest property management tools for landlords and requires very little training or on-boarding |
| Flexible | This app can suit small landlords with a handful of properties, as well as big property management companies with lots of units |
| Fully-featured | Innago has a range of features and tools that landlords can use to complete their daily duties |
| Free | Arguably the best thing about Innago is that it doesn't cost a thing for landlords and has no contracts or subscription charges |
---
How Does Innago Work?
So, how can you get started with this flexible, powerful property management software and start managing your tenants more efficiently and effectively? Well, as explained above, Innago is all about simplicity and ease-of-use; using this software is really straightforward, and even the sign-up process is quick and fluid.
To get started, you can simply head to the Innago website and sign up for an account. You'll be asked to enter some basic information, like a phone number, email address, and the number of properties you currently own or manage. Once that's done, your account will be created very quickly, and you'll be able to start utilizing Innago's features and functions.
For example, rental collection is one of the main features of Innago. Your tenants can also sign up for the Innago app and then make payments to you through the secure Innago system. Not only that, but tenants can actually sign up for automated payments so that the money simply transfers from their account automatically on the same day each month.
As well as rent collection, you can also log in to your Innago account to access and use various other features, such as listing your rentals to draw in more tenants, view expenses and reports to see how well your properties are performing, invest in renter's insurance to protect yourself from future problems, and more.
---
Innago Features
Innago stands out for its impressive array of useful features, and in this part of our Innago.com review, we'll be taking a look at some of the main features and functions that this app can provide.
Rent Collection
One of the main features of Innago is its ability to help you collect rent. Your tenants can pay via various methods through the Innago system, and they'll receive payment alert notifications when the rent is due.
Tenant Screening
Innago also offers powerful screening and reports on your tenants, giving you info on each applicant's credit history, criminal record, and eviction past, too. This makes it much easier to find quality renters.
Lease Signing
With Innago, there's no need for tiresome paperwork and in-person meetings. Leases can be signed online, through the Innago app. Innago lets you use various templates to generate digital leases and sign digitally.
Maintenance Requests
If ever anything goes wrong at one of your properties, like a plumbing problem or broken appliance, Innago can help you handle it. It lets your tenants send tickets direct to you, while giving you the ability to respond quickly and resolve the situation.
Property Listings
If you've got any empty properties in need of new tenants, Innago can also help you speed up the process. It has listing features that let you advertise your rental properties on lots of different sites, all with a few simple clicks, giving you maximum exposure.
Why We Need to Use Innago

Saves time and money for landlords

Makes tenants happier and more likely to remain

Drives faster rental agreements for empty properties
---
Use Innago for easy property management!
If you feel overwhelmed by property management tasks like rent collection and maintenance issues, Innago is the answer. This app makes everything easier for landlords. Sign up for Innago today to enjoy stronger control over your property portfolio.
---
Who Should Use Innago?
As a piece of property management software, Innago has a very clear and distinct user base, appealing to landlords, property management, and tenants, too.
Landlords
Innago was designed with landlords in mind. It lets you handle property management tasks with ease and can help you have better relationships with your tenants.
Property Managers
This app also appeals for property management companies. Even if you have hundreds of properties, you can rely on Innago to make them easier to keep track of.
Renters
Tenants can also enjoy benefits of Innago, as it streamlines the payment system and gives them a quick way to report problems at their property.
Usage

Useful for landlords and property management specialists

Easy to work with, requiring minimal training

Works for small landlords and big property portfolios
---
Give Innago a try today!
Whether you're a new landlord with just one or two properties or an experienced property owner with a large portfolio, Innago can make your life infinitely easier. Sign up today for faster rent collections and happier tenants.
---
Innago Cost and Time
When it comes to cost, Innago has the incredible advantage of being almost entirely free. Landlords won't have to worry about monthly fees or contracts with this app, and the only fees involved are for your tenants.
In terms of time, Innago is a game-changer. It can save you hours of time that you'd usually spend manually listing properties, interacting with tenants, chasing late payments, and so on. It's one of the top time-saving tools landlords can use.
---
Innago Usability
As explained earlier on, Innago was designed to be as simple to use as possible, and it shows. The interface is streamlined, the menus are straightforward, and everything is pretty easy to understand, even for beginners.
There are certain functions and features that can be a little trickier to figure out, such as the first time you try online lease signings, for example. But, in most cases, this app is really easy to work with.
It works on a range of devices, too, with a handy mobile app that lets you respond to maintenance tickets, contact your tenants, or collect payments all in the palm of your hand.
---
Innago Pricing
Part of what makes Innago such an attractive and appealing app for landlords is the fact that it's basically free. There are no contracts with Innago, nor will you have to worry about monthly or annual subscription charges, add-on costs, or hidden fees of any kind. This app is free to use, and it's very clear and transparent about how it works.
So, how does Innago make money? Well, even though it doesn't charge landlords any fees, it can still charge tenants some small amounts. Specifically, tenants may have to pay a fee when paying their rent via either ACH, credit card, or debit card.
Rental Payments
When tenants make rental payments, Innago will charge a $2 fee for ACH payments or take 2.75% of the total cost of any credit or debit card payment.
Screening Fees
If you want to find out about a tenant's criminal record, credit rating, and eviction history, they'll need to pay a fee ranging from $30 to $35.
| Feature | Price |
| --- | --- |
| General Usage for Landlords | Free |
| Rental Payments for Tenants | $2/ACH transaction or 2.75% for credit/debit card transactions |
| Tenant Screening | $30–$35 for credit, criminal, and eviction history |
---
Try Innago today
If you're looking for a completely free tool to make property management easier and more efficient, saving you time, cash, and resources, choose Innago. Contact the Innago team today to find out more about this software.
---
Innago Tools for Business
As well as having a range of helpful features for everyday landlords, Innago also has some useful functions and tools to benefit business users. Here are some of the main tools you can use:
Reports
Innago comes with a range of handy financial reports tools, letting you see exactly how well your business is doing by tracking expenses and income for your various properties. Scanning through these reports is a really easy and convenient way to check the health of your business.
Security
Innago understands how important security it is, and it doesn't make any compromises when it comes to protecting user security and data. The application follows all cybersecurity best practices and has state-of-the-art encryption to protect you and your tenants.
Tax Management
Innago users can also benefit from helpful tax management tools as part of this software solution. It integrates seamlessly with popular accounting apps like QuickBooks, and it also lets you export your financial reports information to Excel with just a couple of clicks.
Points to Note

Designed with business users in mind

A range of flexible, scalable features

Useful for small and big businesses alike
---
Innago Support
With any app or software solution, there's always a risk that things might go wrong and you might require some assistance setting up your account or solving an issue that occurs with the software. So, how good is Innago's support?
Well, Innago offers several methods of customer support, including a direct phone number you can call, a live chat system on the website, a dedicated account representative to help you out personally, and a learning center.
While some issues are sometimes slow to resolve, Innago's support is generally very impressive. Agents are friendly and helpful, offering a personal level of support that many users really appreciate.
Chat and phone support (513-964-0172)
Learning Center
Dedicated account rep
---
Alternative to Innago – TenantCloud
TenantCloud is a piece of property management software that allows landlords and property management firms to advertise their properties online, collect rental payments from their tenants, and screen tenants before approving them.
Comparing Innago to TenantCloud
Innago and TenantCloud have a lot of similar features, but the key difference is in price. Innago is totally free for landlords to use, whereas TenantCloud comes with various monthly payment plans and locks certain features behind paywalls.
---
Conclusion
There's a lot of work involved in being a landlord, and many things that can go wrong if you bring in the wrong tenants, have late payments, or have to deal with problematic maintenance issues at your properties.
If you're looking for an app that can solve all of those issues and more, Innago is the solution for you. It's one of the most complete landlord apps on the market right now, with lots of helpful features that can simplify your working life.
Plus, since Innago is completely free to work with, and you won't get locked into any contracts or subscriptions, there's no real risk attached. You can give it a try for free and see if it works for you before deciding to continue or switch to another solution.
Overall, we're really impressed by this app thanks to its ease-of-use, affordability, and great range of functions, and it's one that we can recommend strongly to any landlords or property managers seeking a reliable solution.
---
Try Innago now
Sign up for Innago today and start enjoying the benefits of secure tenant screening, better property listings, seamless rent collections, and simplified property maintenance.
---