There is nothing more nerve wracking than sitting and having to listen to a boring presentation. Any good presentation program should have all the tools needed to manipulate the graphics, add videos, images, and audios to make the presentation interesting and fun. The goal is to keep your target audience interested long enough in order to drive the message home. As a company, it is vital that you understand the importance of business presentations and tools that go with creating professional presentations.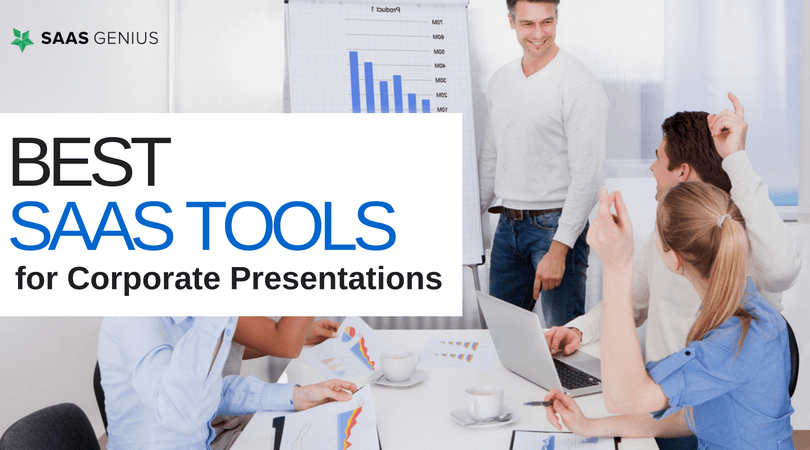 Some of the best SaaS tools for corporate presentations include:
It is one of the rarest tools that give you an upper edge when it comes to customization. You do not have to rely on slides to make your presentations look organized. Prezi allows you to add visuals and display the presentation live in HD. If you have a team spread across the globe, you can edit the presentation in real time based on the needs of your target audience.
It makes your work easier when it comes to creating and sharing presentations. You will be able to import PowerPoint files into the software and then edit them the best way you see fit. It also integrates with Salesforce to help you launch your marketing and sales campaigns seamlessly.
PowToon
It brings life to presentations by including animations. You can create your presentations by adding animations and voiceovers for a clear and interesting look and feel. If you are looking for a tool that incorporates professionalism with zest, then PowToon is the way to go. It has a free version but you can also upgrade to a premium version if you want to enjoy its full features.
It combines multiple media in your presentations. In short, you are spoilt for choice. You can add images, videos, and audios to your presentations in order to spice it up. It allows you to be creative while you draw up a script for your audience. It has a simple user interface, which means that you can come up with attractive presentations with ease.
It comes with a CSS editor feature, which helps you to customize your theme based on your objective. Apart from that, you can edit HTML presentations and stream them live for your target audience to see or simply share with them regardless of where they are.
It was created to overcome the obstacles that most presentation tools face. For example, if you have a presentation in a specific language and you still want it to reach your audience in a different language, you can easily translate it. Emaze has multiple pre-designed 3D templates for you to select and get an idea of what you want to create.
It has a wide range of presentation solutions from management to creating and sharing those presentations. If you have a lot of slides for presentations, you can use SlideBank to manage them in terms of storage and sharing with your target audience. Additionally, the tool helps to create presentations from scratch, which can be a plus for users who need customized solutions